Much has happened in the world lately that has affected us all and especially had a big impact on the world of music. In this first of my blog posts - and many more to come - I will write about what has been going on with WolveSpirit in the last few months, what challenges we had to overcome and what our plans for this year and next year are.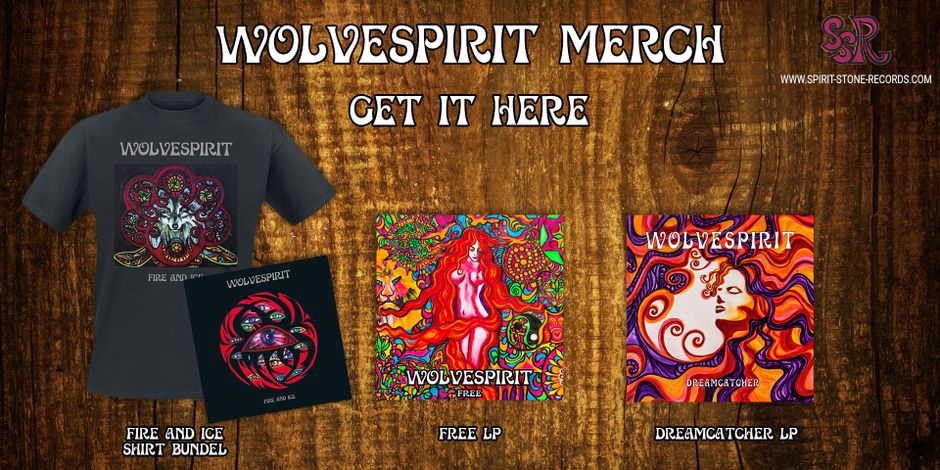 It is no news to you anymore that the outbreak of the virus had turned the whole music industry upside down lately, and musicians have to adapt to the new set of rules opposed on them. In Germany right now, live events of any kind are forbidden and all planned shows have been canceled. And so, we have focused on live streams in the last months which in turn have created their own dynamic and led to our Youtube Channel and Facebook account being more well-tended then they ever have been. Starting with Tennessee Whiskey as our first cover that we streamed live on Facebook in April, we were not shy in streaming our own musical creations too. Beside Tennessee Whiskey, which Debbie loves dearly, the results or our efforts were the covers of Zack Wyld's "Lost Prayers" and Black Sabbath's masterpiece "War Pigs". Also, an acoustic cover of the song "Wild Horses" was recorded in our garden. You can check the videos out yourself if you have not already watched them. We are planning to keep up a healthy schedule of releasing live streams, although in the past weeks our work on streaming and producing videos has been lying dormant. This is for a good reason, we are working on our next album and writing songs like crazy. We love this work so much that we spend every bit of free time we have working on the new songs. Sometimes it is late at night when we leave our studio to go home and let the rest of the evening fade away while resting on the couch and watching our favorite Netflix series.
One thing you must know about WolveSpirit is that most of the band members (Oliver, Rio, Debbie and Martin) live together in a commune. Well, technically Rio is not living in the same house, he is our neighbor right next door and most of the time he hangs around at our place. So I guess it counts. Naturally, living together makes many things easier that are in contrast challenging for other bands, whose members live apart from each other. Rehearsing, planning, writing songs and doing other band related projects is a much more organized process where otherwise great efforts in appointment-making are necessary to achieve the same outcome. That being said is just a side note so you can better understand the our process in creating music.
But back to our album. In case you are wondering about the fact that we said this already last year, I want to clarify that both statements are true. Last year we produced yet again in Nashville our sixth studio album named "Southern Ground" with the producer Dave Betchel in the great Southern Ground Studio, in downtown Nashville. And yes, we are currently writing our seventh album. This time it will be produced by Vance Powell, who we met last year in Nashville, where he has his studio. We will cover more of that in another blog post. The upcoming album "Southern Ground" is set to be released next year in spring. Luckily for us, we did not need to push the release date back because of Covid-19 as we set it to 2021 from the beginning and hopefully everything will look better for the music industry by next year. I know what some of you might be thinking: "WOW, you guys are writing on our next album while the last one you're finished is not even out yet?"
What can I say? We just love to write music. To me, music is the last bit of magic we have left in this world and it has the power to transport so many emotions and good vibrations without even needing many words. And besides, you just have to make the most of your time. Think about it. You only live at best around 4,700 weeks. And at the end of every Sunday there is one week less where you can make and do what you love. So you get better at those things that you want to do, right? 
And speaking of playing live, it is now official. We will be playing at the Raismes Festival in France this year. We are really hyped for it. Understandably, for it will be the first event we will play in 2020! What a great year so far it has been! :-) Currently we are trying to get some more gigs in in France around the time of the festival. Apparently France is not as strict as Germany when it comes to live events. 
But before that, we have an appointment for a music video production in August with the super nice production team firm AVA from Berlin. We are producing the music videos for the release for next year, as you can imagine. 
You see, there is a lot going on this year for WolveSpirit and as we progress into this beautiful year you will certainly get updates from us. Next blogpost will be about the creation of the first album we produced in Nashville with Michael Wagner back in 2012. Until then, have a great time and keep on rocking.
Oliver.